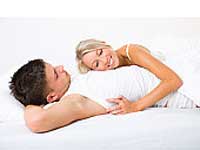 The believe that a steamy sexual session can curb fats have been declared as myth by health experts.
"You're not going to get the same [physical health] benefit as going out for a 2-mile jog. Sexual activity provides some degree of modest exercise. But it's not the same as getting moderate exercise for 30 minutes a day," confirms Jamie Feldman.
Though sex cannot curb your fat it is well equipped to get you a healthy heart. A happy sexual life, can boost self esteem and self impression.
Another major benefit of sexual activity is that it can lower the blood pressure over time, as confirmed by Israel Helfand, sex therapist and marriage counselor.
Sex tickles the body's "happy" hormones such as dopamine and cortisol and successfully counteracts depression, improves energy and does wonders to people's mood.
Consultant sexologist Eric Garrison jots down its calorie-reducing benefits. He says, "studies show that sex is known to relieve headaches and sinus pressure since it increases blood flow in the head. So the 'not tonight, I have a headache,'' excuse doesn't really work."
Sexologist, Ian Kerner, said: "People who have healthy sex lives are likely to have healthier lives overall. People who have sex more often are more likely to go to the gym, eat healthy and take care of themselves. But if you are sedentary and have high blood pressure, this definitely has an effect on libido."
All these reports by experts confirm that indulging in safe sexual activity, has great physical and mental benefits.