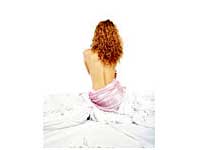 Most men first come in contact with adult materials at an early adolescent stage. 90 per cent of x rated materials is consumed on the Internet, while 10 percent comes from video stores.
On average, single men watch erotic materials three times a week for 40 minutes. However, those who are in committed relationships devote lesser time. At an average, they watch it for 1.7 times a week for 20 minutes.
Most boys seek out for such materials as early as 10. It is the time when they are the most sexually curious. However, they quickly discard what they don't like and find offensive. Elder kids, on the other hand, continue to look for content in tune with their image of sexuality.
Skin flick materials do not change their perception of women or their relationships with the fairer gender which they all want to be harmonious and fulfilling.
For most men, their fantasy of a sexual relationship is broken and they do not want their real life partners to look like porn stars.
Those who are sexually aggressive do not need adult materials to be violent. Those addicted can be addicted to drugs, alcohol, gaming and other similar cases and often suffer from pathological disorders.