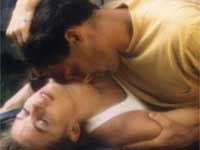 It is a fact that men are physically able and ready to have sexual intercourse almost as soon as they are aroused. An erect penis is all it really takes on their end because all of the other physical changes will continue to follow regardless of what happens next. Women do not work that way most of the time. Although they are easy to excite, they need to be taken from one stage of lovemaking to the other by the partner. Most couples engage in sex before the woman is physically ready and this makes it nearly impossible for her to reach orgasm, particularly through vaginal intercourse. Women need to build up to that point, thus foreplay is very important.

Foreplay can be of various types, teasing, kissing, massaging etc. But the most effective foreplay to stimulate female passion is right at her G-spot. G-Spot foreplay is something that you absolutely need to do if you want to make your partner experience unbearable orgasms. But before you can perform g-spot foreplay, you need to know where the g-spot is. The G-Spot is an area on the front wall of your vagina that when stimulated, can cause women to orgasm and sometimes ejaculate. For some women, stimulating the G-Spot creates a more intense orgasm than clitoral stimulation.

[an error occurred while processing this directive]

It is the bean-shaped, spongy tissue of the paraurethral gland, which is analogous to the male prostate. The actual area is only about the size of a quarter, but it feels rougher to the touch than the surrounding tissue. Because the G-spot is composed of erectile tissue, it swells up when blood rushes into it during stimulation. It is located about one to two inches back from the vaginal opening inside the front vaginal wall.

Foreplay not only makes sex better for women but it also improves the male orgasm. The longer men hold off from sex the more sexual tension builds in their body. The more tension that's released during orgasm, the stronger the orgasm is going to be. It's like pulling a rubber band. The tighter and more tense the rubber band is pulled, the further its going to fly when its finally released. That means foreplay won't just help your partner reach orgasm; it will also help you have better and stronger orgasms.

There are different methods to stimulate G-Spot. Start with good old fashioned foreplay. Use your finger and then tongue to stimulate the clitoris. You can actually use both with the tongue moving outside and the finger going inside stimulating the G spot. in this way you can drive her wild. Once you find out where her G spot is do not forget it. Keep going at it like a shark after squid. When this area is stimulated correctly, it can cause a woman to achieve a very satisfying orgasm.

Different sexual positions give different g-spot experience. Therefore, it will be good that you explore different positions with your partner and have her tell you which positions give her the best g-spot stimulation. It always good to give control to her while on the action. She will hit her G-spot on yours for guaranteed orgasm.