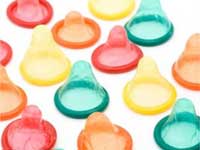 People at McMurdo base will be playing safe in the sack this winter thanks to the 16,488 condoms that have been delivered there.

The shipment was delivered at McMurdo Station last month for those brave souls that resort to the most natural way known to mankind for keeping warm in the chilly climes of.

According to station's manager, Bill Henriksen, it was quite a surprise initially but he insisted that there was "not really" anything unusual about McMurdo staff.

"During the summertime we've got a normal population of 1100 people and this is for the year round not for the 125 people we have here in the winter," Stuff.co.nz quoted him, as saying.


[an error occurred while processing this directive] 


He said that the last flight out of McMurdo before winter was on February 26 and the people will not find any relief from winter's darkness until the first sunrise of spring, on August 20.

"There are some people that tend to get a little bit bored but, for the most part, people who come down here know how to occupy their time," said Henriksen.

And the staff will be getting a free supply of condoms to avoid any embarrassing purchases. "Since everybody knows everyone, it becomes a little bit uncomfortable we'd prefer to just provide them and do it that way so that people don't do without," he added.