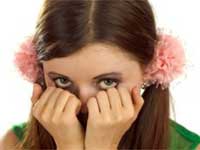 People feel guilty for a variety of reasons. Some feel guilty for past actions; few feel guilty for actions that are omitted in the past like the 'sin of omission in Christian philosophy. There can be occasions when you felt guilty for things, which one had no control over or which had virtually no effects on anyone. When it comes to the sexual life guilt feelings do more disasters than in any other realms of life.
Guilt can be seen as the price we pay when our behavior violates some standard or belief we hold. As long as our behavior is violating this standard, guilt will follow. Very often, our standards are not very clear in our consciousness and we question our behavior only in response to feelings of guilt and shame.
In sexual life, openness of mind is an essential element required for success and satisfaction. Those who feel guilt about sexual life might have had possible un-recommendable relations with others. If happened to sleep with a prostitute or if happened have sexual actions with anyone, a guilt feeling could be stamped in your mind.
[an error occurred while processing this directive]Guilt feeling obviously is that felt within the conscience. There can be guilt feelings originated from a particular mental situation called 'illusion of control". We would rather believe that certain events in our life are a result of wrongdoing than that they are caused by inevitable circumstances. The price we pay for this belief that we are in control is guilt. In sexuality actions like masturbation or other sexual experiments may lead to guilt feeling called illusion of control. Yet another type of guilt feelings is 'unconscious guilt. Unconscious guilt is the most difficult to deal with because we are not directly aware that we are feeling guilty. We may notice it indirectly when we feel defensive as we talk about something we have done.  Projection is another way of unconscious guilt can manifest itself. We project when we blame someone else for something that is related to our own action.
  Unconscious guilt can be dangerous to your sexual life. If you have guilt feelings connected to your past sexual life, it may come out as fatal doubt about your partner"s present and past life. You may project your drawbacks on your partner or you may attribute your sins and guilt on your sexual partner. Guilt feelings could do no help other than making you mentally unstable. Sexuality is to care each other, share the joys of life and to be united in body and mind. Guilt feelings will drain out the pleasure from the sexual act and will fill the cup of sexual pleasure with dryness and indifference.
  Below listed are few tips to stay away from the guilt feelings:

You first need to be fully aware that you feel guilty and should be willing to avoid it.
Then you need to identify, as clearly as possible, just what it is you believe you feel guilty of.
The next step is to ask yourself if your guilt is logical or not. This gives you a different perspective from which to view your actions.
Remember that guilt is a feeling associated with the values. If you find no way get out of guilt then redefine the values, but rationally.