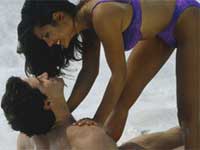 Sage Vatsyayana's Kamasutra is the much ancient and referred text in the art of lovemaking. The love positions as explained in this holy text have made the physical pleasure a more thrilling and unique experience for its followers. This article series is an humble attempt to explore the lovemaking positions as explained in the most read text.
The flower in bloom position (Utphullaka)
To attain this position the lady love can raise her back and spread her soft feet to both sides as far as she can. The heels of the lady's feet should rest beside her waists at this time. The man in love can grasp her ankles and caress her limbs. Then he can slowly lift the pair of feet until the knees touch her beautiful breasts. Join your limbs and enjoy the sexual thrill as you have never enjoyed before.
The jewel of case position (Samputa)
Place your legs along with each other, caressing their whole length from toes to the thighs. Interlace the thighs and squeeze each other in rhythm. The lady love in the process may trap her lover's asset and strengthen her grip on it. At this moment the lovers may stop to kiss or caress each other as they derive more pleasure from this lock.
Rising position (Bhugnaka)
[an error occurred while processing this directive] This enthralling position can only be achieved with the hearty consent of your lady love. Lying on her back she will swiftly raise her beautiful legs upwards, while pressing them closely together. She will embrace your shoulders with her feet. She will start caressing down with her feet until her legs reach the horizontal position. She releases the clasped legs and it is the time for man to take over the charge.
The crab position (Karkata)
Just imagine the way the crab fold its legs across its belly and your sexual position in the same way. Bring your lay love's feet to her navel and press her soles flat. Let her lie on her back and the man can start caressing as well as uncurling her limbs. You can embrace her by passing your arms beneath her knees. The caressing and squeezing can lead to the next level as she unclasps her tight limbs.
These sexual positions may be enough to keep your sexual nights a unique one. The next article in the series will come up with insightful light on sitting positions for lovemaking.