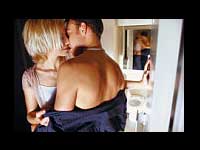 Women crave sex nearly as often as men do. When it comes to love, lust and good old-fashioned romance, the genders don't differ.
An online survey found that almost 33 per cent of women want sex every day, compared with 40 per cent of men, though in reality 25 per cent of women have sex only once a week while one in five get lucky just once a month.
Most married couples who have healthy sexual lives have sex three to four times a week, with both the partners initiating it.
In the survey, most women confessed having sex every day, if they were not tired. "When I'm not tired from work I would want it almost every day," said a woman who participated in the survey.
More than two-thirds of both sexes said they would be open to watching porn or engaging in sexy role-play games in order to spice things up.
A romantic dinner was favoured by one third of both sexes but according to 61.8 per cent of men and 52.4 per cent of women, there is nothing as good as a cozy night to ignite passion.
The issue that was common to almost every couple was a rushed foreplay with 37.8 per cent of women complaining about it.
35 per cent of men complained about women never initiating any sessions of lovemaking.
Sex therapist and clinical psychologist Janet Hall said that attitude towards sex is now about the outcome, rather than the journey. "People do not make love, they only have sex. Girls are not telling the guys what they want and as a result the whole art of seduction is just not there any more."
Rarely people enjoy making out, the fear of its outcome and stereotype sessions often steel away all the pleasures of that moment.