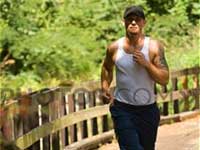 Jogging makes you stay healthy but have you ever guessed any other consequences of regular jogging? Jogging can also make your love life more active.
A survey conducted across 1,000 regular joggers 1,000 non-joggers have concluded that one in ten joggers make out at least once a day and three per cent of joggers said they have sex twice a day.
Amongst those who never run, one in four said they had sex once a month or even lesser.
While One in ten male runners think about sex while exercising, only five per cent of total women think the same way. Almost half of the women spend their time thinking about how the exercise is benefiting them.
In the survey, a quarter of joggers admitted going for jogging to help them flirt with the opposite sex in a trend branded 'flunning.' More than a third said they have managed to strike up a conversation with someone of the opposite sex while running.