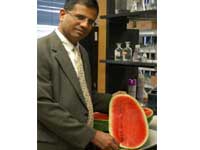 If you are too embarrassed to pop-in a few blue pills for every trip in the bed, fret no more as your stimulant may as well be available in your own kitchen.

Want to steam up your rocky bedroom life? Well, you can rekindle your passion just by eating six slices of watermelon. The juicy fruit delivers Viagra-like effects to the body's blood vessels, and may even increase libido.

Scientists say that it contains a chemical called Citrulline that relaxes the blood vessels, thereby making blood move around the body more easily and causing consumers to become aroused, reports the Sun. It's not only watermelon; even libido patches designed for men can help stimulate the libido.

[an error occurred while processing this directive]

Each patch is impregnated with aromas known to affect the sex drive. Anne Summers', the original blue pill, which is over-the-counter version of prescription-only Viagra can also stimulate sex drive.

One pill is enough for both men and women for endless fun between the sheets. Pheromone spray is also known to trigger seductive affect and spice up things in bed. 'Lure For Him' contains seductive powers that project silent, subconscious scent signals to the opposite sex, which naturally trigger romantic feelings.

Horny Goat Weed, a Chinese herbal remedy, which has long been known as a natural aphrodisiac can also help enhance sex drive. Just one pill a day can increase energy and stamina for improved performance.


So, get going consume your favourite stimulant and rock op your sex life.