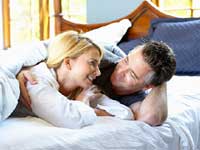 Passion has been the ultimate of all obsessions. Sex is the most primitive and vital of all expressions till date, its language has remained unchanged and its craving is still powerful. Did you ever realize that apart from being important for love life, sex also plays a more important role in our health life.

Healthy sex leads to a healthy life. You may have tried copious measures to get that extra glowing skin and shiny hair. You must have also worked out rigorously to achieve that perfect ten figure you've desired. But the key to your mind and heart is fulfilling sex. Even for those who lose their temper or are always in a depressed state of mind, 'sex' can be the solution. So how do you enhance your sex life? How do you innovate and energize the art of lovemaking? How do you set your partner's mood for an evening of passion?

[an error occurred while processing this directive]

Well, then all you need to do is make them have strawberries, for that will surely arouse their kinky desires. In case the fruit is not good enough, below are some more Aphrodisiacs that will surely work, reports the Independent.

1.Rhodiola
Rhodiola is promoted as a natural libido tonic for men and women.
It is an 'adaptogen' herb, which is believed to address the underlying causes of declining sexual appetite. It is popular in Russia, where it is traditionally used to promote sex drive and keep the aging process at bay.

2.Oysters
Recent studies have shown that oysters are rich in rare amino acids that can trigger increased levels of sex hormones.

3.Epimedium
Epimedium is said to treat fatigue and improve sexual function by altering specific hormone levels.

4.YohimbeBark
Deriving from a tall evergreen tree native to western Africa, the Yohimbe bark has traditionally been used to boost sexual desire and treat erectile dysfunction.

5.GojiBerries
The goji berry is said to improve fertility and sexual performance, as well as benefiting liver function and circulation.

6.Chinese Ginseng
Ginseng is a natural stimulant, which can be enjoyed as a tea or food supplement, and is said to boost libido and sexual stamina.

7.Truffles
Truffle has therapeutic and aphrodisiacal properties.

8.Strawberries
The fruit's powerful effect has been noted since ancient Roman times.

9.GinkgoBiloba
Ginkgo Biloba reportedly improves blood circulation, thereby increasing the supply of oxygen to the heart and brain. The effect of this is also considered beneficial in the treatment of male impotence, making the plant extract popular with older males.

10.SpanishFly
The male Spanish fly releases a powerful chemical to seduce its female counterpart. The drug is a popular aphrodisiac among humans.

All that is required now is the right ingredient, the right mood, the right time and yes, a very right partner. You are ready to unleash your desires and surrender to your passion. There is nothing embarrassing about it.