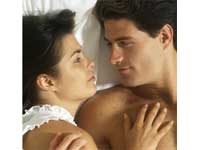 As they say there's pain along with every pleasure, sex is not an exception either. Apart from love making being the most instinctive behavior bestowed by nature, it combines a lot more than that.

If you think that sex is all about pleasure, then here's a new flash: a rare combination of factors can cause a person to suffer a stroke after the hot and steamy session, at least that's what a case of a 35-year-old woman suggests. The woman suffered the stroke just minutes after having sex with her beau. She felt her left arm go weak. Her speech became slurred and she lost feeling on the left side of her face.

Doctors at Loyola University Medical Center later concluded that the stroke probably was due to several related factors, including birth control pills, a venous blood clot, sexual intercourse and a heart defect. Birth control pills slightly increase the risk of blood clots. Doctors believe a small clot formed in one of the veins in her thigh, broke loose and travelled to the right atrium (the heart's upper right pumping chamber).

[an error occurred while processing this directive]

Normally in such cases, the clot will get pumped out of the right atrium and travel to the lungs, where it may harmlessly dissolve. In this case, there was a hole in a wall of the heart separating the right atrium from the left atrium. Pressure changes in the heart, triggered by sexual intercourse, enabled the clot to travel through the hole from the right atrium to the left atrium. From there, the clot travelled up to the brain.

Dr. Jose Biller, co-author of the report and chairman of the Department of Neurology at Loyola University Chicago Stritch School of Medicine, said that it lodged in a narrow blood vessel, blocking blood flow to an area of the brain that controls movements on the left side of the body.

The woman was saved but doctors advised her to stop taking birth control pills and scheduled a follow-up procedure to repair the hole in her heart. The defect, called a patent foramen ovale (PFO), occurs in about 1 in 4 adults. While in many people a PFO will never cause problems, the defect might be associated with an increased risk of stroke. How these patients should be managed remains controversial. The study is published in the Journal of Stroke and Cardiovascular Disease.

With the AIDS, STDS, teenage pregnancy, impotency being some of the basic concerns before you indulge in the pleasure, now you also have to take care of your heart and brains, as too much love can also be too dangerous.