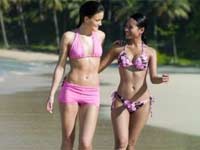 People vary a great deal in their sexual attitudes and practices. Therefore, defining what is meant by 'normal lovemaking" may arise a lot of controversies. However despite being attracted to the same-sex practices, many people may wonder about a return path to normal lovemaking. Is it possible for them to lead a normal sex life after having serious relationships with the same gender?
This article is an attempt to find an answer for this looming question. In India, the homosexual behaviour and even sexual behaviour outside marriage is viewed in a rather orthodox manner. The adolescents in India may find the company of a same gendered person and their relation may not be questioned in the society as it had been with a opposite gender person.
[an error occurred while processing this directive]The seeds for the homosexual relationship may start to sprout here, if both the companions are seeking the same outlet for their feelings.
In many of the homosexual relationships, the desire may start to fade away as the teenage infatuation wipe off. The homosexuals may wish to get out of their relationship and seek a normal sex life. The real dilemma arises in this situation. They may be confused whether they can lead a relationship with a partner from the opposite gender as they had done with their pal. Moreover the trauma to get separated from their present partner will give additional tensions to them.
The good news for homosexuals is that you can return to normal lovemaking without any physical treatments. The first thing that you have to do for this is undergoing a psychological counselling or doing a self-analysis. In that case you can find what pulls you back from a heterosexual relationship. If you fear that you cannot satisfy your partner, then you are on a wrong foot. Sexuality differentiates from person to person and your acts may simply satisfy your partner. Doubts and fears can make you feel less than your best. Therefore shed the fears and get ready for a heterosexual relationship.
Once you get into a heterosexual relationship, you may feel guilty that you are cheating on both the partners. However, begin the sexual play in a soft manner as foreplay, cuddling etc. Once you and your partner reach the peak of sexual satisfaction, and grow comfortable with each other, you can reveal your secret to your partner. Sexuality is one aspect of our need for closeness, touch, playfulness, caring and pleasure. Once you reveal your secret, your partner may assist you to build up your confidence.
Homosexuality is never a crime. You can overcome the deviated path through self-analysis and support. Your homosexual partner may also be resurrected by your own self-correcting ways. Give a try and you"ll see that life is a changed one for you.