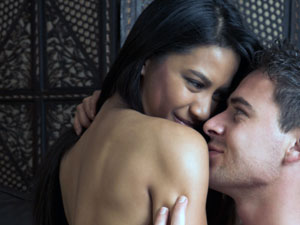 Sex is not everything but one of the most important things in the life of a man. There is always a list of wishes that keeps running on the mind of a man. Fantasies and imaginations of a man towards sex tend to mix with expectations. While having a sexual conversation with his partner, a man puts forward his desires so that his woman can fulfill them. Like women, men also expect surprises during sex. Find out which are these surprises.



Surprises men love during sex:



A sudden blow job: "While making out, you suddenly go down and start licking my torso". A big surprise and a wish of every man. Only a man can answer why he loves to get a mind blowing blow job. Try some wild tricks to surprise your man today. Squeeze in your mouth on the tip of his torso and do not forget the little balls.



Sexy moves during intercourse: Well men would love this surprise. Just go on top of him and start some sensually stimulating sexy moves. For example, dance slowly when you are on top of him. Go up and down and shake your belly gently. Do not be too athletic or you might end up hurting his erected jagger.



Self stimulation during sex: How about reaching orgasm while he is busy trying some foreplay tricks on you? Any man would be surprised to see a woman trying to suit herself and reach orgasm. Its wild and dirty; something men love the most! Bring some energetic mood during sex by using your fingers on yourself. Just touch yourself and feel your body parts in front of him. Do not let him touch you. This is one of the ways to make your man know how you feel after touching your body.



Contracting the big hole: In the middle of an intercourse, just surprise your man by trying this sexy trick. Contract your vagina and see how you attract his attention while he is busy with the action. Contracting the walls of your vaginal will excite him more and would be dead spicy!



Blind sex: Turning off the lights is common as women are shy and uncomfortable to have sex with the lights on. Surprise him by tying up his eyes with a blindfold. You also cover your eyes and have a dark and blind sex. You both will be free and exploring each other's body would be fun.



Take over control: Surprise your man by changing your role. Instead of lying under him and enjoying the pleasure, go on the top. Men love this surprise because they also want to get dominated by their sexy ladies! Do not listen to him and do whatever you like. Such dominance would definitely drive him crazy.



Do you have some stories where you surprised your man? Share with us.