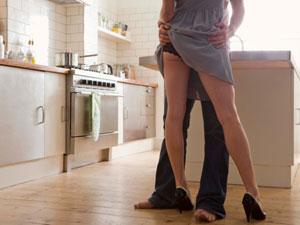 After a period of time, you do not feel like having sex. Even if you have, you only have one session. Making love becomes boring when there is no spice in the love life. Instead of taking it as a duty or as a monotonous task, you can try to make this physical activity of sensual desire once again. Wondering how? Well, you can try various sensual tricks to bring back the lost love in bed. Check out how..
Tips to have more sex:
Include an item: To have a better sex, you should try to include an item or a prop. For example, you can try using a handcuff or a scarf. You can also include food items such as strawberries, banana or simply chocolate. Just use your sex appeal to turn on your partner. Remember, these props are a means to attract the attention of your partner towards you.
A new place: Having sex in the same bed becomes boring. This is why, you should try new places to bring a change in the boring sex life. Try your living room couch, dining table, stairs, bathroom and balcony. But, be sure that no one is around to catch you guys in action!
The water game: Why not try something new? A hand shower can be used to make a woman reach orgasm. Just try this trick to bring back the spice of sex in your boring love life. Splash water on your partner and then go close. The touch and intimacy will be a big turn on for both. Bathtub is cozy and will definitely turn you two on. To get excited, have a bath together. If your partner says No, just be little persuasive. Things will go according to your wish and plan.
Tickle more: Tickling is one of the sensual ways to excite a woman as well as a man. Just find out the most erogenous zone of your partner. For example, abdomen, back, neck, upper thigh and under arms are a sensuous zones of a woman. You have to try and analyse. Tickling excites an individual and this trick can definitely spice up your sex life. To have more sex, use the fingers to tickle your partner.
Want for some more: You have to crave for some more. This can only make your partner indulge in another session. Men often feel tired after having sex. This is why they doze off if they are not turned on. To bring back the lost sex life, you have to become a little greedy. Play a game with him and then see how excited he becomes. Talk dirty after having sex. Hug him and tickle. He might ask you to sleep as he will be tired, but, you should be naughty and stubborn.
Try four ways to have more sex. Bring back the lost love in your sex life.