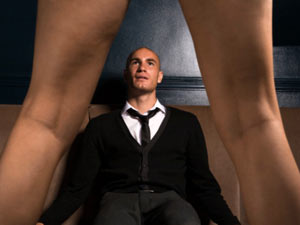 Men love fantasies. One of the most desired fantasy is stripteasing. Though women feel shy to striptease as it is a sensual and erotic dance of undressing yourself but doing it can spice up romance! This striptease can be fun and can add fire to the lovemaking mood.
Stripping is generally performed to arouse the mood to make love. So how and when to striptease? Check out the ways to striptease.
How to striptease?
1. Be prepared for the show! You know you have to sensually undress. Check out some videos on stripping so that you get an idea on the moves for stripping.
2. Give a hint to your partner. A man loves to see his woman strip. Give him a sign by either mailing or texting him. You can even call and talk in a sensual tone before he reaches home. He will get the hint and start fantasizing.
3. Set the room before he comes. Light scented aromatic candles and play some sensual music to prepare the ambiance for stripping. You can also put candles in front of the door entrance to give him a hint.
4. Dress yourself sensually. As you are going to striptease, wear some sensual dress with buttons or chain which is revealing and easy to open. Also wear high heels to add sensuality to the look.
5. When he enters the house you can hide yourself. Let him enter the room and then you open the door. Think sassy and confident. Walk with criss-cross steps and go close to him. Whisper in his ears asking him to prepare himself to get into the mood to make love.
6. If you haven't played the music, then play it in front of him. Always give dirty gestures and expressions.
7. With a smile go close to him again and serve him a glass of champagne. Now stand in front of him and start unbuttoning your dress while dancing.
8. Feel yourself in the way he does or imagines you just to arouse his mood.
9. Use a scarf or a stole as a material to play with him. Put it around his neck and pull him close to you.
10. The best way to undress is by turning on your back. A man loves to see a bare back! Stand in front of the bedroom door and with a side face call him close to you. You can also call him with a finger or hold the scarf around his neck and take him to the room.
Use these ways to striptease and see the effect on him!