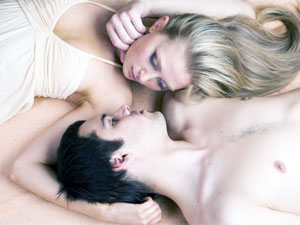 If you are in a mood to make love but your man is not then here are some easy tips to excite your man in mood for orgasm.
Women are generally shy to express their mood for lovemaking in front of their man so they can try these tips to excite man indirectly and get him close to you.
Exposure works great. Wear nice lingerie to excite him in a minute. Try for black colored lingerie. Men love black color as it is sensually appealing. Try net or transparent lingerie for maximum effect.
A lap dance or any such dirty dance works wonders. Feel him and more importantly make him feel your body. This tip to excite a man is really effective.
Try stripping if you are comfortable. Do it indirectly if you are shy. Try changing sensually in front of him. See what happens next!
Prepare your room. Sensual ambiance sometimes automatically excite man. Light candles, put silk bed-sheet and wear a nice sensual dress. Play sensual music to give him a hint.
Kiss him. This should not be a normal kiss or peck. Get close to him and give him a wild kiss. Lick with tongue to excite him in seconds.
Try to make love with fruits. Share sensual fruits like banana, strawberries or grapes.
Give oral love. By giving oral love he will not be able to stop himself. Try it once and see the playful mood of your man.
Caress his body parts to excite him. Female touch immediately excites your man.
Talk dirty. To give indirect hint or sign, talk dirty. Speak about your past orgasm and how you felt. Talk about the position which made you go crazy. He will think about doing again to give you pleasure. Remember, men love to get flattered. Try appreciating his action on the bed during your last lovemaking session.
See your man's mood. It is very important to know the mood so as to avoid getting into fights if he doesn't get into orgasm mood. Be playful when you see him in a good normal mood.
So, follow these tips to excite your man and enjoy orgasm!