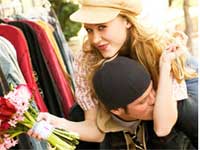 A recent study states that few hours of exercise will not just help in maintaining muscle and loosing fat, but it can also revitalize your sexual life. The study further states that sexual dysfunction is more likely among those with poor physical and emotional health. These exercises may not double the fine sex moves, but it will surely improve your performance and sexual skills. As working out will not only increase your sexual endurance, but it will also increase the production of testosterone, which will give rise to sexual desire. So get ready folks to spice up your life the right way.
Brisk walk : experts suggest men to go for a brisk walk for 2 miles everyday as it can reduce the risk of impotence.
Erectile Dysfunction: In 2004, researchers from the University of Naples reported that a reduced calorie diet and regular exercise, improve erectile dysfunction in obese men.
[an error occurred while processing this directive] Practice the Squeeze
Sex muscles are rarely active during the course of the day, unlike the muscles in our arms or legs. To experience more intense lovemaking, strengthen these secret muscles. Here is how, contract your PC (pubococcygeal) muscles by clenching, as though stopping urine, and hold for at least two to three seconds per squeeze. Inhale as you squeeze each time and try to relax your muscles between each contraction. Start the exercise with just 10 or 20 squeezes anytime in the day. This exercise firms the muscles of the vagina, thus helping her gain muscle control. It also helps in reaching orgasm more easily.
Pelvic Lifts
To evoke powerful sexual feelings, lie on your back with bent knees and slightly apart. Make sure the feet is flat on the floor and arms at your side. Inhale, clenching your abdominals and buttocks and lifting the pelvis until your back is straight. Breathe as you hold the pose for 10 seconds and exhale as you lower your body and repeat the exercise.
Tips to improve missionary position (Sexual Position)
To improve missionary position practice standard pushups and bench press. You can try and add variation to pushups, such as one-hand pushups or clap pushups, to increase the difficulty. These exercises strengthen your chest and triceps. This will help in increasing your ability to hold yourself over your girl for an extended period of time, in an act to please her with all the seductive tricks.
The Butterfly
Here is an exercise, that is not only beneficial in improving sexual life but also helps in menstrual irregularities, urinary problems and to help ease the pain of childbirth.
Lie on your back with bent knees. Place the feet together and flat on the bed. Next, pull your feet in until they touch your buttocks. Turn your ankles so the soles of your feet are facing each other and touching. Your knees will point out to the sides of the bed. Now slowly lower your knees toward the bed. Make sure not to force them down. Ask your partner for help. Ask him/ her to gently press downward on your inner thighs. When your knees are as far apart as is comfortable, hold for 60 seconds. Gently bring the knees back together with your hands and relax.
Follow the above simple tips to walk your way to a better sex life.