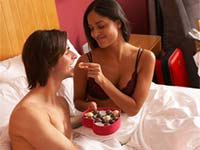 Having the high waves of sexual appetite and plan to start a hot action in the bed? Are you at the time worried that your partner doesn't have the sexual appetite as you? Well, it is high time that you have to step into solve the problem.
Many events like childbirth, stress, or loss of a loved one can contribute to the sexual incompatibility between partners. Sexual difficulties, like problems attaining orgasm, a waning sex drive, or erectile dysfunction can also have one partner far from looking forward to lovemaking. If these are the reasons for your partner's abstinence, you can take the advice from a sexual therapist.
There may be some other reasons for your partner getting alienated from you. Here are some tips to spice up your time in bed in those cases.
The first and foremost appeal for a hot time in bed comes from physical attraction. If you are planning for a spicy time, be clean and good-looking. This may arouse some feelings in your partner's head.
Always remember that the need of lovemaking is different for men and women. When it is an expression of love and physical need for men, it is an expression of emotional bonding for women. Therefore before lovemaking only, you have to make your partner feel loved! The more you engage in all types of erotic talk, the more you'll pique your lover's interest.

You have to relive the erotic moments that you once shared through words. Describe body parts you miss touching and how you're consumed with longing. Rent a movie with a sexy or romantic storyline. Pursue anything that will put your lover in a sensual state of mind.
Entice your partner with orgasm exploration. Read up on the many types of peaking men and women can have, and let your lover know that you want to explore how both of you can reach new climactic heights.
Always stay with your lover during lovemaking. Worship your partner and make him/her feel that it is something that you always long for.
Keep things novel and spicy in and out of the bedroom. In exploring what turns both of you on when it comes to sex, you can broaden your sexual repertoire. You want to make your lover feel like you're embarking on an adventure, not just going for a simple roll in the hay.
Consider how you size up sexual satisfaction. Sex doesn't always have to end in intercourse. So rethink your pleasure and the different ways you can realize sexual satisfaction that doesn't necessarily require going "all the way."
Have a spicy night today!
AGENCIES