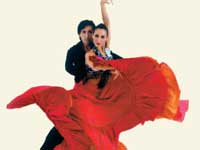 The different forms of art have always touched the sensibility of not just art lovers but also the common laymen like you and me. The portrayal of art can also be manifested in different aspects of life . The greatest portrayal of art can be revealed in the art of lovemaking.

Of course, all of us have our own personal secrets of making love, which we guard so preciously from other couples. However, there is a novel way to manifest passionate and sweaty intimacy namely Salsa. Salsa is a partner dance form that corresponds to salsa music, however it is sometimes done solo too. The word is the same as the Spanish word salsa meaning sauce, or in this case flavour or style.

Having passionate sex the Salsa way, is the best way to set the temperatures soaring high for groovy moves which can make love-making extremely beautiful. This sensual form of dancing gets hotter by the minute when the graceful gyrations of the woman takes the form of passion . The dance form of Salsa is a seductive art form of dance which is best performed by lovers who are mad lovers desiring to reveal their love with moves which are extremely sexual.

The dance style of Salsa is performed to reveal the inner steaming hot passions of desire. To spice up your sex life, do the Salsa moves to ignite burning desire of flaming love. I am aware that most men shy away from the thought of 'Salsa' for they fear they have two left feet and I am in no way suggesting that you should dash right onto the dance floor and be the object of embarrassment. It's crucial to learn Salsa, for this form of dance is like an intense form of love making on the dance floor. If Salsa gets too tough, try dirty dancing, where you can make crazy love on the dance floor. Kissing, necking, cuddling and fondling and some great thrusting can be done in an intimate space with your love. Getting dirty on the dance floor is the best way to have some erotic sex.



Salsa is like foreplay and remains an eternal turn on, for lovers who want to explore the various facets of their sexual intimacy. To make your love session very interesting and seductive, perform all the crazy Salsa moves for a passionate foreplay which would leave you begging for more ....