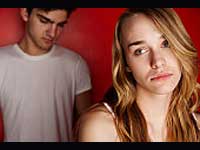 Premature ejaculation is one of the biggest reasons for unsatisfied sexual life and this is also one of the major reasons for a failed marriage. If the first line has depressed you then the next would be the healer.
The first pill proven to prevent premature ejaculation is all set to be launch.
The drug, is diagnosed to be taken one to three hours before love making and works by altering seratonin levels in the brain. This helps a man to get control over his moment of climax.
Priligy, the pill, has been shown to make men last three times as long. The pill, also called the sex guru, is a bit expensive - at 76 pounds for a pack of three Priligy 30mg tablets.
Priligy, is available for men aged 18 to 64 and is already in the markets of some European countries. It will soon be sold exclusively online, for private prescriptions only.
The drug, though is advised not to be taken after boozing. This aggravates the risk of side effects.
"Priligy has the potential to do as much for men's sexual health as Viagra. It will give sufferers a chance to improve the quality of their relationships and their general well being. It has been well received by men elsewhere in Europe and we are really pleased to be bringing this treatment to the UK. Some men are understandably reluctant to discuss the problem with their GP so we are removing this barrier to treatment," said Makadia.