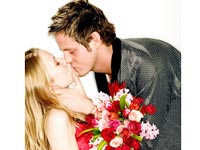 In the present day lifestyle I is not difficult to meet up couples who are bored with their lovemaking sessions. Here is a spicy game for stimulating their senses. The new spicy game is called sensate focus lovemaking!
The new mantra to renew your sex life and to rediscover each other is the slow lovemaking. You have to focus on your sensations followed by a series of behavioural practices. This sensate focused sex will offer variety and increased personal awareness through basic touch.
Here are the basic rules in sensate focus lovemaking:
1. Breasts and genitals are off limits for the first few sessions.
2. Verbal feedback is limited unless you're uncomfortable or in pain.
3. Do not try to elicit sexual response (but don't sweat it if it happens).
4. After each session, be sure to process the experience
In sensate focused sex, each partner will have to pay increased attention to his or her own sensations when stimulated. This exercise will help the lovers to overcome issues like performance anxiety, rapid ejaculation, lack of orgasm and erectile dysfunction. The benefits of sensate focus include, new types of touch, spine-tingling sensations, increased comfort with physical intimacy, better awareness of your lover's body, as well as your own.
Sensate focused lovemaking helps couples to strengthen their relationship, and also guarantees no fear of failure, better sex communication, and heightened sexual excitement. Couple doesn't make lovemaking as a goal oriented one with such non-demands and pleasuring exercises. They can really enjoy the experience of being with one another, touching and feeling each other's bodies.
These highly structured touch activities are about enjoying physical contact to the fullest without trying to arouse each other and should not be mistaken as a form of ejaculation because it is the main experience in itself. Sensate focused lovemaking is highly advisable for couples in a sex therapy. Sensate focus sex could establish new ways of relating to each other and partners may find themselves having some of the best sex of their lives.
When pursuing sensate focus exercises, set aside at least 60 uninterrupted minutes in a warm bedroom and one may even enhance the setting with soothing music and candles.
If it helps, take a bath (or anything else that relaxes you). Take your time, over several "dates," and finally get on with the sessions.
The details of sensate focus sex make part of the book ''Touch Me There! A Hands-On Guide to Your Orgasmic Hot Spots,'' by Dr. Yvonne K. Fulbright, who is a sex educator, relationship expert, columnist and founder of Sexuality Source Inc.