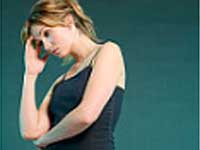 Majority of women scheduled for gynaecologic surgery for the non-cancerous symptoms, are not afraid of its effects on sex lives, says a new study.
The doctors generally reassure the hysterectomy patients that they do not have to fear a detriment to sexual functioning. But some women who have removed their ovaries, might face the problem due to the decrease in the hormone levels. That is certainly not the rule, say the doctors.
contraception,hysterectomy,irritability,menopause,ovarian cancer,pregnancy,uterus removal leads to menopause in women, which can be characterized by such symptoms as hot flashes, night sweats, sleeping difficulties, irritability and vaginal dryness, as well as the possibility of reduced interest in sex. But the doctors could offer remedies, especially a variety of therapies to replace lost estrogens, for most of those symptoms.
Hysterectomy or removal of the uterus and sterilization through tubal ligation or other, less invasive methods generally do not affect the hormone levels.
Dr. Jonathan Schaffir, clinical associate professor of obstetrics and gynaecology from Ohio State University reminds that women who have undergone the effective methods of contraception ought to feel free to participate more sexually as they do not have to fear pregnancy.
The details of the study have been published in the Journal of Sexual Medicine.