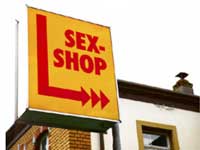 New Yorkers are not happy with the opening of a 'kid-friendly' sex shop in Brooklyn. The Babeland store in a family district of Park Slope in Brooklyn, New York has baby-changing tables and also sells 'sexy mom' products.
Unlike the other sex shop, Babeland store has displays and smartly dressed sales assistants, while a sign at the front urges customers to "relax, take a look around, and enjoy." Its products include a 'Sexy Moms Series' for mothers trying to add some spice to their sex lives and bondage gear.
"It's completely unmoral, it's unclassy - it shouldn't be here," the Sun quoted Brooklyn resident Anthony Vedetta, as saying. However, owner and mum Claire Cavanah has something else to say.
[an error occurred while processing this directive] "If you walk into a mainstream sex store, you'll probably be greeted with explicit imagery and a sort of artificial sexuality, like a woman with blonde hair with her head thrown back, something that's meant to titillate in the moment,"
"Here we're really trying to sort of greet everyone where they are sexually," she added.