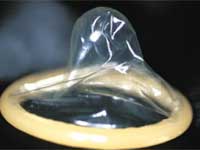 London: While beijing,bicycle,condom,contraception,elasun,exercise,olympics gets ready to welcome thousands of athletes from various nations, cheeky condom adverts have been released in China to coincide with the 2008 Olympic Games.

Themed on Olympics, the adverts show stick-man athletes using condoms as apparatus in Olympic events.

The adverts, which have become a growing sensation in China, show contraceptives take up a versatile role—standing in as bicycle wheels, basketball nets, archery targets and gymnastic rings, reports Telegraph.

[an error occurred while processing this directive]

If this wasn't enough, the ad-makers have used a ribbed condom to exemplify choppy water in the swimming version of the campaign.

Made for Chinese condom-maker Elasun, the adverts show off the broken English slogan "Sports make you health".

However, it is not the first time that Games are linked with sex, what with Olympic villages veering reputation of hotbeds of after-hours indulgence.