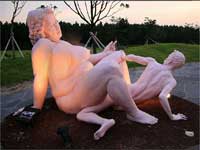 Imagine taking a leisure stroll with your love in a park crammed with soft porn memorabilia, where several statues, photographs and sculptures are placed in the most erotic manner...ummm.... I can see those raised eyebrows and bended headed to get all the information about the place. Jeju Loveland is an outdoor sculpture park on Cheju Island in South Korea. It is a sex themed park which features 140 sculptures representing humans in various sexual positions. It also has other elements like large phallus statues, stone labia, and a "masturbation-cycle" for all the visitors to try. Read on to know what makes this place a first choice of honeymoon destination for most of the Koreans.

Researchers state that during last few decades many of the couples had wed because of arranged marriages. So may be, the couple would have met each other only under the watchful eyes of the relatives, before exchanging ceremonial vows. So, where do they drive to get a sensual icebreaker to start a sacred bonded life ? It would surely be this honeymoon isle, where all the sex education is given explicitly.



When you first enter the park, you will be greeted with an acrobatic, oral-sex ensemble statue. This will surely make anyone giggle nervously. It shows a man and two women one woman has her legs wrapped around the man's neck and looks like she's going to break her own neck any minute. And the other woman is kneeling down to give her man the pleasures of oral sex. The acrobatic threesome is illuminated at night,with the other exhibits like the nipple mountain crowned with pink nubs or the sturdy erect penises that rise up from the goldfish pond. In the evenings, the hotels offer an entertainment program featuring lap dances and others raunchy highlights. For sure these activities help the intimidated, freshly married novices relax and prepare for a steamy sessions in forthcoming lovemaking nights.

The park is not just blessed with erotic sculptures and other entertainments just to see and not to experience. It probably has the world"s only masturbation bicycle. It was designed especially for women, but men splurge on it more. The attachments on the rim of the wheel are made of soft feathers. The cycle can be peddled by one person. This outdoor sex theme park will surely make the imaginations run wild.

Before biding bye to the place where sexually-oriented art and eroticism meet don't forget to click a family picture on the phallus bench.