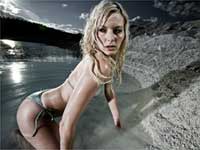 Lovemaking is not just about lying down and intertwining the bodies for many love makers. They make their physical union a memorable experience at each time through imagination and unique steps. Vatsyayana"s Kamasutra provides ample ideas for lovemaking positions. In this article we will discuss the sitting positions for lovemaking that make your sexual endeavor a sublime one.
Padmasana (The Lotus Position)
Well, those who have done the rejuvenating course for Yoga must be familiar with this position. The only difference is that the ladylove places her left foot on the right thigh and right foot on the left thigh on a rather seductive manner. She raises her legs towards the stomach to invite her lover. At some other instances, she can tuck only one feet and stretch out the other leg high.
The lovemaking in the lotus position can be made more romantic if, the guy adapts the position and clasp his feet with the hands. The ladylove can touch his thighs with her soft feet and hug him. Herein she can stretch her feet beyond him and twist her body around her love. The position can be repeated with role reversal also.
Paravrittaka (The Turnaround Position)
This physical union gives the enthralling experience to the lovers. They will seat with their lips glued together, arms clasping each other and the thighs pressed against the thighs. Both the lovers can then stretch their feet beyond their lover and experience the sexual thrill.
The lovers can also chain their partner"s neck with their feet in this position. Slowly bring down the feet by caressing each limb of your partner"s body with the toes. The man in action can also kneel between the outstretched feet of his ladylove and make deep nail marks on her soft body to make the lovemaking more vigorous.
Bandha (The Tying Position)
As the lovers sit face to face, the man will fling his hands around the deep neck of his lovely girl and she will press her palms against his thudding heart. They will start to make love as they drink sweet kisses from each other"s lovely lips and when their thighs are tightly meshed together. The lovers will cling to each other with their body interlaced to enjoy the Bandha position that takes them to new levels of sexual ecstasy.
As we have discussed before, lovemaking is all about imagination and togetherness. It should not be the monotonous action for the gifted experience. Learn to enjoy your life with the loved ones with these master steps.