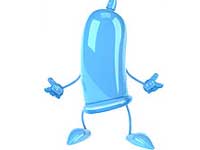 Majority of men do not prefer condoms as they are badly fitted. They not only reduces the sexual pleasure, but also increases the risks of infections and pregnancy.
The badly fitting condoms always double the chances to splitting and slipping them off. So gents are more likely to take them off midway, during the intercourse.
More people admit that their last love making involved the ill-fitting condom, which had reduced the enjoyment for their partner.
The availability of different brands in different shapes and sizes make it difficult for most people to pick up the 'right' one, says Simon Blake from advisory charity Brook. Natika Halil from sexual health charity FPA says that the confidence and the skill of putting on the condoms also counts much on the results. "Men come in all shapes and sizes and so do condoms. When we talk with men on the FPA helpline about condoms tearing, slipping off or being a nuisance to use, one of the main culprits is often something as simple as not using the right size," says Natika.