If you are a woman, there are innumerable things you can do that can potentially give a man his greatest time on bed. Men get immensely turned on by women who take the lead in the bedroom. This article looks at how you can surprise and consequently enthuse your man on bed.
Here are a list of erotic things you can perform. You can be assured of the fact that your man will have perhaps the most splendid time of his life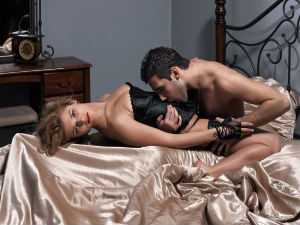 Wear A Miniskirt:
Before things get started, wearing a miniskirt will unfailingly turn your man on. Showing off your legs can really excite men, making his mind wander to other parts.
Lying down on the bed before your man
Even if you are clothed, doing this will certainly indicate to your man that you are in the mood. Knowing that you are in the mood itself will turn him on. Once you lie down, slowly undress yourself from the top.
Take off your clothes from the bottom
By doing so, your man will know that action is close. It will arouse him within an instant and make him think things that you cannot even imagine. This is a potent way to turn your man on.
Undress him and rub his penis on your sensual parts:
This will certainly serve as a fitting surprise. By holding your man's penis and rubbing it on your breasts and outer of your vagina, it will make him feel harder and immensely enhance the arousal.
Brush and Graze your fingernails and fingers on his penis
By doing so when your man his hard, the slight touches will make him feel an intense arousal.
Keeping Your Bra On During Doggy Style:
This is an extremely creative way to enhance the sexual excitement. By keeping your bra on, he can hold your bra and take full control of the thrusting.
Rub His Penis Against Your Buttocks:
You can do this just before initiating anal sex. By rubbing your man's penis on your buttocks, he gets harder and feels increased and indescribable pleasure.
Whisper To him:
Constant whispers by telling him to give it to you harder will again, enhance the level of excitement. Go close to his ears and whisper. The warmth of your breath will unfailingly turn him on.