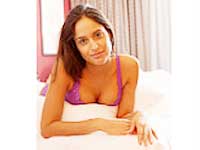 Does your cleavage drive your boyfriend nuts in the bedroom? Cleavage plays an important role to allure and stimulate men. Men always enjoy sight of the girls with low-cut cleavage barring tops. So it is quite natural, when he wants to have sex with the cleavage, very often inside the bedroom, too.
Most men like to have the breast lovemaking, where penis are placed between boobs of the ladylove. The penis is moved up and down, where it provides them the orgasm which lasts for a long.
Men also like to squeeze breasts together. It will provide a massage and a heightened arousal for the lady love, where as he also gets the same for the shaft and head of his penis.
You and your man should be comfortable with this method. If he likes it, do never feel like pressurized with or resist him. When you find it painful for your breasts, discuss it openly with your partner.  Discuss about the methods both of you would like to have. It is the most tender part of yours and hence ask him to caress it slowly. Open communication always makes your lovemaking more enjoyable.