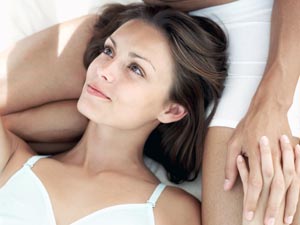 Mood swings is a common trouble for couples. Often couples end up in a bitter fight due to mood swings and change of emotions. What happens when you approach an angry woman? She will yell at you and you two end up sleeping turning your back to each other. You think you did the right thing by trying to change her angry mood through sex but, things turn out differently. Depending on the mood and how a woman is feeling, you should try these things to initiate sex.



When she is angry: Try to calm her down and support her. If you want to have sex with her, then you have to try to make her calm down so that your mission is achieved. You not only change your woman's mood but also satisfy each other. Be careful when you initiate. Be a good listener and offer suggestions only if she is ready to hear.



When she is upset: It is difficult to initiate a woman when she is upset. You have to be very careful when you see that your woman is upset for some reason. Go close to her and give her a tight hug. Make her feel that you are always with her. Women need much of mental support. This is romantic for them. Arouse her slowly by massaging her neck and soothing her with your hands.



When she is kiddish: Play with her! When she is in a mood to have fun, just pour alcohol in her glass and both of you can get drunk. Drunken sex is best for many couples. So, to boost up your energetic kiddish mood, be fast. Do not be too slow as such moods change in a blink of an eye.



When she is romantic: Ahh! Ideal mood to have sex right. Make her more excited by turning her on in the right way. Play the finger game to make best use of her romantic mood. Be naughty as she would love it. How about dancing on a romantic track? It is a mood where you can easily initiate your woman for sex.



When she is relaxed: Give her a sexy body massage or make her a cup of coffee or tea before. This will make her feel more relaxed. You might end up having a smooth and soft sex or the rough and erotic one. Do not be too direct. Try few tricks to signal that you want to have sex with your woman.



These are few moods of women that can be kept in mind. So, be careful next time when you plan to approach your lady love.