There are times when you are not ready for sex but your partner forces you to make love to him/her. Having sex is one of the best feelings and couples feel it is one of the ways to fight stress while maintaining and improving love lives. However, few couples like it regularly, there are many who do not like to have sex every day. In the beginning of a relationship, having sex on a regular basis is nothing strange. But with time, a phase comes when you do not want sex all the time. This is when the wishes and desires of couples clash.



Few men complain that their women always want to have sex even if they are not in a mood to make love. So how to deal with such a situation? Here are few tips to deal with a girlfriend who always wants sex.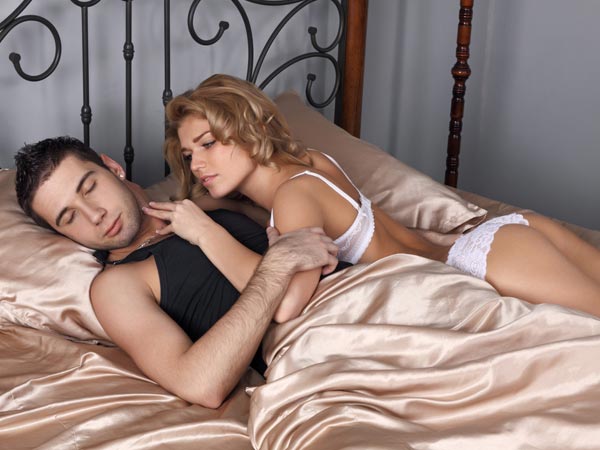 Discuss: First, sit with your woman after having sex. In a simple and non-hurting way, discuss your problems with her. Explain her why you do not have strength to have sex after a hectic day. Be sure that you discuss in a friendly way so that it doesn't hurt her ego. This is a sensitive issue and if you yell or fight for this, you might end up sleeping alone!



Is is addiction?: Observe and note her reactions. Is it her desire or a habit? If you used to have sex regularly for months and suddenly reduced to once in a week, it might become difficult for your girlfriend to cope with the lack of sex. So, observe and find out if she can actually stay without sex or not. Sometimes, a sex addict will end up sleeping with any random person just to reach orgasm. If your girlfriend fights with you for not having sex with her and walks out of the house, you have to become alert.



Avoidance: You start avoiding sex. When she asks, you throw a decent excuse and leave. Do not avoid her in such a way that she feels hurt. You kiss her and caress her if she wants to have sex. Another way is to make out with her so that she doesn't come to know you are not in a mood.



Make weekends special: If your sex life is nil on weekdays, you can make the weekends special for your girlfriend. Surprise her with a wild sex session when she is not expecting. When she is sleeping, just hug her, caress her body and breasts and then go with the flow. You can make your weekends special by trying something new. This also shows that you are equally interested ins ex and her if men do not have sex or avoid there women, women feel they are neglected or used. So, make her feel special whenever possible.



These are few tips to deal with a girlfriend who wants sex all the time.