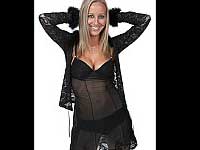 When two people are in love with each other and have taken their level of romance to a whole new level, like that of lovemaking, they become more involved with each other physically and mentally.
To increase the art of lovemaking and to enhance love life, British retail giant Mark and Spencer have launched a range of Nearly Naked lingerie which looks fabulous and sexy. You don't have to worry anymore about your bra popping out in public or it showing when you wear on translucence clothes. For lovemaking , though you can surprise your partner by wearing on this Nearly Naked lingerie as it appears to look gorgeous on woman in bed too.
This Nearly Naked lingerie comes in four shades to match with your skin tone and thus it will help you even more if you wear on something revealing to turn your partner on in lovemaking. The price of the Nearly Naked lingerie is at the rate of 18 pounds.
To spice up your night of lovemaking, you can also sport this Nearly Naked lingerie along with the nude underwear too at a price of 8 pounds. The sizes which the bra and the nude underwear come is at 32A to 40D. The head of this lingerie design M and S, Soozie Jenkinson, stated," Women are recognizing the need to wear a neutral-colored bra which complements their own skin tone and can create a 'disappearing act" under clothes."