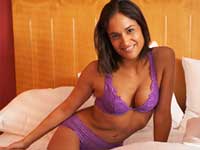 An intimate sexual encounter is never complete without spice. The act of sex can be complete when your loved one wears what looks hot and sexy and brings out their inner beauty. ( Pun intended) Lingerie never goes out of style. Kinky, bizarre , sexy and sweet are the different ways, you lover may want you. To spice up any love making session, wearing lingerie that suits the mood of hot love making is a crucial idea to be keep passion going. A steamy hot session is never complete without a sensuous body.
Sexy attire when never goes out of fashion and dressing up or rather dressing down for him is the best solution for some sweaty, passionate sex. Men have been seduced since time immemorial by the sexual , curvy and voluptuous zones of a woman. Crazy love making can only be attained when you are so excited to share your carnal urges with your loved one. How can't deny that large breasts , curvy thighs and a huge butt remain an eternal turn on.
Every man wants his woman nude. However, he wants to be an active player in removing his lady's clothes. He would want to appreciate her true beauty by admiring her body without any clothes on. A woman's locks, soft warm skin and super wet lips is a guarantee for him to ask more of her on bed. However, there are certain style fundas to make any man go ga - ga over his woman. A man believes that his woman's body must be left to some amount of imagination. To keep his imagination going, be daring on bed with some super sexy turn clothes which will keep you both going the whole night.
The best way to make him drool over you is to get topless. Nothing is as sexy as big breasts. Rub his face with your warm breasts to turn on the heat. Kiss him all over his body to guarantee maximum pleasure.
Set a spectacular theme for me. Ask your man what turns him on. Dressing up like a hot nurse or cowboy wearing pants of a super -low waist line make be real good for a steamy session. Some men love their women to be super feminine, so sexy lacy lingerie is the easiest way for a man to feel the softness of a woman's skin. Men like their women wrapped round a bathing towel. So after you have bath, wrap yourself in lover's arms.
Go commando for your lover and there's guarantee to keep the temperature soaring high. Being sexy has no limitations. Get naughty and do some mischief tonight....