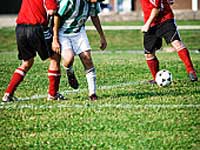 The raging FIFA world cup fever can boost your sensual life says new reports!
'Sin Chew Daily', a Singaporean report has a urologist as saying that men are likely to secrete more testosterone and adrenaline when the matches are intense.
The report also has a doctor stating that the chances are high for husbands to indulge in a sensual intercourse with their wives if the preferred team turned out victorious and after sipping beer for a couple of rounds according to 'Star Online'
Similarly, if the preferred team loses, it is supposed to bring down the excitement and hence the Oomph for sexual pleasure also drops!
FIFA influence everywhere !