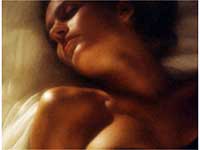 No doubt about the fact that they do! While platonic love does exist, the physical desires and their fulfillment play an important role in any relationship. Yes, the penis size does matter. The bigger it is, the more fulfilling the sex is. In fact any woman who doesn't like a bigger than normal penis size, would be considered a rarity in todays world. Though they all may say that it doesn't matter, they often discuss the mens' sizes when they are in each others company.
A comprehensive study conducted by sex researchers suggests that the average penis size ranges from 5" to 7" in erect condition. Women often complaint that mini sized organs do not satisfy them. Although your lover might not openly admit it to you, but the truth is that when it comes to penis size, most women love a big penis. First of all what is the definition of the 'big' that most women refer to. A large number of women refer to 'big' as being above seven inches long and five inches in girth.

The problem of a small penis size is among the top three causes of sexual frustration for women, the others being premature ejaculation and impotence. It seems due to the caring nature of women they seem to assist their lovers in solving other issues in their lives and their relationship but when it comes to the issue of their lover's penile size they tend to hide under the statement of 'it is not the size that matters but what you do with it.'
But is the preference for a bigger penis size just based on the fact that a big penis is more aesthetically pleasing than a small one to women? Definitely not! One of the reasons that women tend to prefer a bigger size is that a bigger penis is capable of physically stimulating the sexual pleasure centers which are located both around the walls of the vagina and deep in the vagina. Although you could assist your lover in achieving orgasms by stimulating her clitoris, such orgasms are short-lived when compared to orgasms achieved by the combination of deep penetration of the vagina and stimulation of her clitoris due to the thickness of a bigger sex organ. Such orgasms are much more explosive and long lasting.
Another reason why a woman would tend to love a big penis is that it excites her and makes her much more open to orgasms. The sight of a large penis makes a large number of women go into overdrive. In simple words a large penis makes a lot of women sexually excited before foreplay even begins. This situation makes it much easier for such women to achieve multiple orgasms since their bodies are in a more receptive state of anticipating penetration by their large sized lovers.
In an anonymous survey carried out in 2004, it revealed that 85% of women wished it were possible for their lovers to increase their penile size. Meaning what most women want is a bigger penis size. It also revealed that such women have not told their lovers that their penile size is not enough for them. It seems most women are sensitive to their lovers and don't want to hurt his feelings because they feel that a man is stuck with whatever size of genitals he was born with.