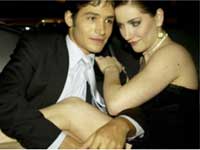 Sex, the most beautiful aspect in a male female relationship. No male and female affair ever bloomed on this planet without a shadow of lust and sex. People long to have sex, people commit crimes to have sex and as strong as the restrictions or barriers created by the society, sexual desires explode when proper opportunity arises. Daily news papers have number of rape cases and murders based on sex. People sometimes go crazy to the unimaginable extends to suck this vine of restricted pleasure. At this point I am tend to ask few questions. Is premarital sex a forbidden fruit? Could we justify premarital sex?
I do not expect the blind religious and impotent ones to answer me, neither do I accept answers from the romantic insane who are sensitive but never sensible and rational.
Page not found
The page you requested cannot be found. The page you are looking for might have been removed, had its name changed, or is temporarily unavailable.
Please try the following:
If you typed the page address in the Address bar, make sure that it is spelled correctly.


Open the Indiansutras homepage and look for links to the information you want.


Use the navigation bar to find the link you are looking for.


Click the "Back" button to try another link.


My question is to you, the educated, civilised and up to date members of human race. Should sex be forbidden to the unmarried clan of the society?. The unmarried are mostly the teenagers, who are at the peak of energy and vitality, a group with the highest possibility of enjoying this act to the perfection. With regard to premarital sex people seem to be afraid of few things as religion, society and conscience.
Hindu Puranas and epics are full of stories of sexual anarchy. No where no god never commanded that sex is to be practiced only in marriage. 'Indra', the supreme god or emperor of god's, is the best example for sexual immorality. According to the stories depicted in epics he never misses an opportunity to have sex with a female, irrespective of his or her marital status. Now... if you take this lightly, telling that this is only a story; you will be denying the reliability of Hindu religion and may be unknowingly proclaiming that Hinduism a mere baseless story.
The same is true with most of the religions. Bible says 'God created human being as male and female. God sent them on earth to multiply like the sand on sea shore'. Greek goddess even had a river to regain the virginity after every sexual act. In this case how can you consider pre-marital sex as an evil?
We will continue the discussion on the same issue in the forthcoming article.