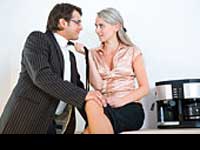 A new book presents erotic pleasure of strangers and lose of virginity by a professional window washer.
He is Shawn Wickens, 34, of Sunnyside, who went around 12,000 miles in 36 cities, in order to convey to people and help in writing their tales about their virginity lose in his book "How To Lose Your Virginity"
After having spent three years interviewing Americans, Wickens found that more than 1,000 strangers revealed their first intimate moments. These people talked about sex in places like the backseats of Cadilacs, broken Tilt-A-Whirl ride, bunk beds and even in mom"s bed.
"There are joyful, erotic and unfortunate moments," the New York Daily News quoted Wickens as saying of his book.
 
"There"s a sense that the first time is awkward or uncomfortable. I tried to look for stories that ran the gamut, to shed light on everything out there," he stated.
 
While traveling he carried a tape recorder and a business card and conducted ice breaking session on the spot. The places of his visit were Gettysburg, Pa., Roswell, N.M. and Hoboken, N.J.
Bars were appropriate topics for Wickens, who spent a short time in telemarketing, addressing some quick information to prospective subjects.
 
When he doesn't wash windows, Wickens works as a comedian, and he has made a note of his story as well in the book.