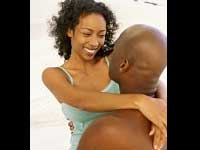 Do you know everything about sex? I am sure, you don't. The things that you know so far could be counted as myths and not as facts. People are easily carried away with certain sex myths. As you progress reading this, you would realize, how had these myths taken you in its control.
Pre - Ejaculation Fluid Doesn't Make You Pregnant : Most of the couple has the belief that, if your man pulls out before he releases the sperm, the woman won't get pregnant but I would, correct your thought by saying that beware! before you dive into her. Experts say that your per-ejaculation fluid too has sperms that are capable of making her pregnant. So if you want to play safe, erase this myth and wear proper contraceptives.

Early Ejaculation Affects Youth : This is another myth that is so popular among young men. In some men this scenario of pre - mature ejaculation happen when they attain sexual maturity but there are, others too who face this as a problem in later life. Early ejaculation during 30s can be called as a symptom of poor cardiovascular conditioning,erectile dysfunction or fatigue,or depression, anxiety.

Oral Sex Is Safe : Although oral sex gives you satisfaction and that hyped effect, I would not say that it's safer while you compare to the real play. When you involve yourself in fore plays, there are certain sexually transmitted diseases, which can ruin your health.

No Food Can Get You The Mood : It's well known that certain aphrodisiacs can set your mood to have sex, there is not particular study to prove this fact. So, I would say this is a pure myth, and there are no certain food items to stimulate your mood. These food items might help in triggering an erotic memory or wish in your mind. Hence the arousal spirit that you gain is from with in you.
Size Plays A Role : If you are with the belief that 'bigger the better', then I would say that it's time to change your thought. The satisfaction that your woman attains is not in the size of your penis. It's related to how well you please her with those sexual acts. Hence don't measure the man - hood with the size.