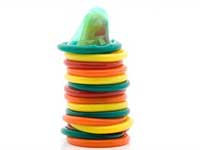 Inmates at a Queensland, Australia prison are once again going to be issued condoms ' despite the fact that they used the flavored condoms to sweeten their milk during the first failed trial.

A new national study is comparing the sexual health behaviours and attitudes of prisoners in Queensland 'which does not make condoms available' to those in NSW where the state's 10,285 prisoners are using about 30,000 condoms a month.

The survey will involve 900 male and 150 female prisoners from all high-security centres in Queensland. Offender Programs and Services Executive Director Di Taylor said prisoners were a 'high-risk group for ill health, including sexual health'.

"At the moment rumour and anecdotes dominate views and there has been a lack of Queensland specific research, so this will provide a critical benchmark in developing a range of sexual health policies,' The Courier Mail quoted Taylor, as saying.

[an error occurred while processing this directive]

In 1999, condom vending machines were installed in three Queensland prisons' Borallon, Moreton B and Palen Creek ' but according to sources within the Department of Corrective Services, the trial was aborted when it was discovered inmates were using the condoms to flavour their milk.

'I think that the Government has a basic duty of care to provide access to or at least allow access to mechanisms to allow safe sex,' Matilda Alexander, from the Prisoners' Legal Service said.

"Consensual sex in the prison environment is a reality and people who are engaging in that should be allowed to engage in it safely,' she added.