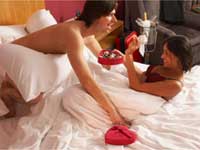 They might be the most grueling days of the month for a woman, but it looks like they're the most 'fertile' days to attract the man you have long been dreaming about - at least that's what a new study suggests.

A new research has revealed that a woman's voice is most attractive to a man when she is ovulating. The study by New York scientists may go some way to revealing why Marylin Monroe and Cate Blanchett are considered such sirens, beyond their looks alone, the researchers said.

Australian experts say the find is further proof that women become "different" at this point in their menstrual cycle as they come under the effects of sex hormones. Research has shown the female lap dancers make more tips during their cycle peak, and another study rated a woman's walk most sexy to men when she is ovulating.


[an error occurred while processing this directive] 


In the research, Nathan Pipitone and Gordon Gallup of the State University of New York tested the cycle's effect on voice attractiveness and found this also altered during the month. The team recorded women counting from one to 10 at four times during their menstrual cycle and then replayed them at random to male and female students for judging.

Both sexes judged the women's voices to be most attractive if they were recorded during the peak fertility period of the menstrual cycle, and less attractive if they were recorded during non-fertile periods, the researchers said.

It is thought that voices are slightly higher pitched on high-fertility days. Professor Rob Brooks, an evolutionary biologist at the University of NSW, said the findings supported growing evidence that women changed when they were "in heat", otherwise known as oestrus.

"There is a well-established theory known as the battle of the sexes," The Daily Telegraph quoted Prof Brooks, as telling the New Scientist. "In an evolutionary sense, men with a short-term copulation strategy want to know exactly when a woman is most fertile so they can dip into the action at the last possible moment and get out at the first possible moment," he added.

It is in a female's best interest, however, to conceal her ovulation so they have more control over keeping a man interested long term, he said. "There's only a handful of days in a women's lifetime when she need a man's sperm but she will potentially need his material resources and parental support for the offspring for many, many years," Prof Brooks said.

"The potential challenge for women is keeping men interested ... so it's understandable that they try to conceal this while men, all the while, try to pick up the signals. It's the definitive battle of the sexes," he added. The study is published in New Scientist magazine.