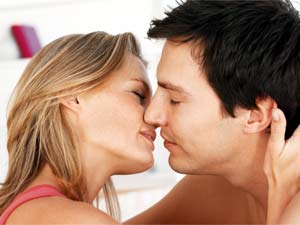 If you simply rewind your thought about the Bollywood and Hollywood movies that fetched good revenues and have been in the minds of many viewers, you will realise that those which had the maximum or hottest kissing scenes made big money than the normal ones. Titanic, Spiderman 1, Jab We Met were some of the best blockbuster 'kissing' hits ever made. While movies like Aisha bombed just because of missing the kiss scene in the climax.
So kissing means a lot to people who watch and for those who experience. All these 'Mills And Boon' and fairy tale romance fans feel that a love story cannot have a greater beginning or ending without a kiss. Even kids who are hardcore followers of Harry Potter books go blushy when they read Harry kissing his close friend's sister Ginny Weasley. Today, we will tell you all about the art of kissing and pleasing your partner.
How To Kiss? - Kissing Tips
Kissing has a lot to do in building a connection between the boy and girl. When a couple kiss, it resolves all the lack of communication between them. Women of today would want a partner who is a great kisser so guys need to learn how to kiss.
1. French Kiss - Also called a smooch is the most happening kiss style of all the seasons. You don't have to break your head to know how to kiss a french kiss, it simply involves sucking the lower and upper lip lid. A highly romantic and emotional kissing style.
2. Indian Kiss - You might have seen this style in the old bollywood movies. The hero and heroine kiss each other by facing their back to the screen. The hero keeps tilting his head from left to right, the style is similar to whipped cream kiss. Here you embrace your partner and deeply let the tongues slip over. Very lengthy and passionate kiss.
3. American Kiss - The stylish and similar to french style. In the American style, do not use tongue while kissing. Just lip sucking with closed eyes completes the thirst to romance.
4. Chinese Kiss - Although kissing in ancient China was confined to bedrooms, it is no longer that secret. The Chinese kiss is very short and sweet. They do not like the lip-to-lip kiss so think before you kiss a Chinese girlfriend!
In fact, nobody would ask anybody about how to kiss but everyone would want to search online for a basic training. Our only advice for you is that, don't end up biting the lips of the partner too hard or eat raw onions if you are planning for a lip lock. An onion can keep everyone away!