A kiss has a very important place in the life of couples. It can make you excited and even melt your anger. A kiss in short, is a way to gel well with your partner. There are many types of kisses that couples give each other. From friendly to passionate to formal, everyone indulges in a kiss at least once before getting married! The best type of kiss for turning on your partner is a french kiss. Also known as a smooch, a french kiss is an all time hot pick of couples. When you try to get intimate with your partner, you commence with a kiss. You might be shocked to know that a woman can reach orgasm by just kissing! Wondering how right?? This type of kiss is also known as an orgasmic kiss. It might not work for every woman but, you can try.
How orgasmic kiss works?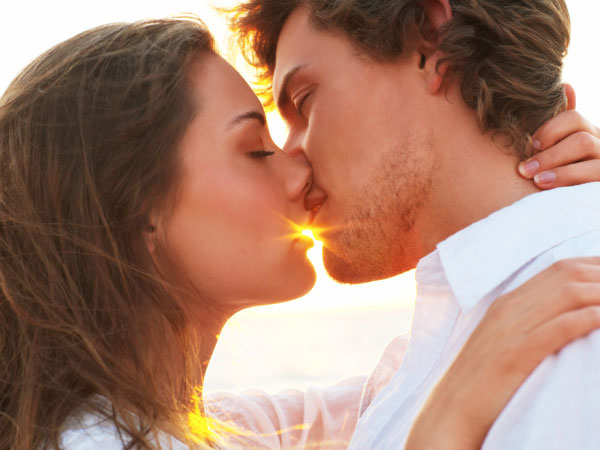 An sensuous zone: The lips of a woman are one of her most sensuous zones. They are soft to touch and tickling the lips can excite a woman easily. That is why, you might have often heard that women love kisses. According to them, kisses are romantic and sexy!
Use of tongue: The way you use your tongue affects the kiss to a major extent. Roll your tongue inside her mouth to make her feel ticklish. Tickling is one of the most popular and easy tricks to excite a person. Do not forget to bite her lips while giving the orgasmic kiss. Remember, be gentle while biting. Do not hurt her if she is too delicate and hates tough sex.
Position: A position matters a lot. If you are trying to make your woman reach orgasm by just kissing, you have to make sure that the position is perfect. Your body should completely touch hers. This way, you both will get excited and the fire will burn more and more between you two. Make sure that your erogenous zones especially lower body touches hers. This way you can easily excite your woman and help her reach orgasm. You will also be excited as the touch of a woman is killing! Be smart enough to use body movements while giving her the orgasmic kiss. Pushing your body against hers is a sexy trick that works well!
Where are your hands?: Ahaan! Your hands are on her hair!! Go down.. You have to make her reach orgasm. Use your hands as a tool to excite her further. Start by rubbing her hair, neck, back, bosom, abdomen, upper thighs and finally the G spot. As mentioned earlier, tickling can turn on a person easily. So, use your hands in the right way to make her reach orgasm.
This is how you can give an orgasmic kiss. Try these to make you woman reach orgasm erotically.