The wedding night is very special for a couple. While few are used to sex and do not feel scared on their wedding night, there are many who fear the first night with their partner. Before marriage itself, you start imagining what you would do on the first night with your partner. As it would be the first time for many couples, you both will be worried to throw the best impression on the very session. There are many ways to enjoy first night. But, basically, you have to play with the positions to make your partner feel comfortable while enjoying pleasure. Lets check out the most sizzling sex positions that you should try on the first night.



Sex positions to try on a wedding night: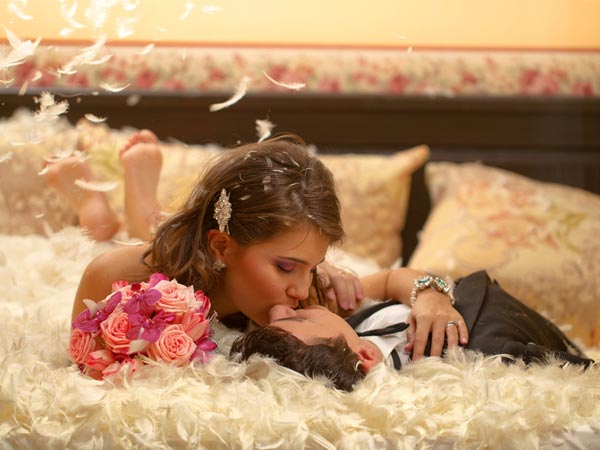 Man on top: Basically, this sex position is ideal for the wedding night. This is because, a woman will feel shy to come over you that too on the very first session. Moreover, couples love this position. The man can easily control the pace, look at his newly wedded wife while having sex. The woman can easily play with her g-spot while having an intercourse in this position. The woman can place her knees on the shoulders of her husband to make more space for deep penetration.



Hot bath tub sex: The wedding day will be very tiring. After a hectic day with family, friends and relatives, you both need to relax with each other. One of the tips to have a rocking first night is to try this sex position. A hot bath plus a steamy sex can be a spark to the romantic mood. All the body pain and stress will diminish once you enter the hot water bath tub. Sex in the small cozy place can be fun filled too!



69 position: It is one of the best sex positions to enjoy pleasure. Both men and women can reach climax in this position. However, there is no intercourse involved in this. It is one of the best oral sex positions to enjoy orgasm to the fullest.



Spoon position: Sleeping cozily into each others arm can be really romantic. In such an intimate mood and situation, couples might feel a high pick of their sex drives. Explore the touch effect and try this sex position. In this position, the woman will lie facing her back towards the man. The side sex position can be tricky for the man to enter inside her but, with little adjustment, the man can easily enter inside.



These are few sex positions that can spice up your first night. After wedding, you have to make sure you experiment with new positions to avoid having boredom.