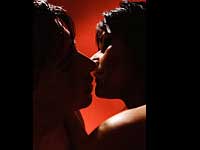 Getting married? Are you excited about starting a new life or hesitant about the first night?
Thinking about the first night can be exciting and yet nerve racing. Its normal to have butterflies in the stomach, especially when it is the first night for a couple after an arranged marriage. The thought of being in a room with a person, that too whom you hardly know is weird. Yet, you want to make the most of it by exploring ways to get rid of the tag of being a 'virgin.'
Tension sets in when you are mentally unprepared for it. Don't worry, lock up all your worries and enjoy each and every moment of it.
It is the night of emotions. Feel the mood. Let love and passion rule before you unite your body and soul with that of your partner.
Realize the fact that your partner is also on the same boat, so there is nothing to feel shy. Explore each other by gentle caress. There is no need to rush things for having sex. Feel the closeness, become comfortable with each other and then when the mood sets in, go for it.
Remember, there is no protocol to lose the virginity on the same night. First become comfortable with each other, understand your partner's needs and then "it" will happen automatically. Sex happens, it can never be done.
It is normal for men to get aroused easily, but make sure that your partner is also keen on having it. Don't force her to do something which she is not ready for. How you handle her will make her comfortable with you. First night should be as pleasurable and memorable as possible.
The surroundings should be perfect to set in the mood. Do not sit under a neon tube light. Switch on a bed lamp or a zero watt blue bulb. You can also light up aromatic candles in your room. Flowers have always been a sign of love. Have lots of roses, jasmines and other fragrances in your room. Soft music, dim lights, you and your partner - that's all you need to spark off the mood.
Cuddle up, hold hands, gently caress, look into each others eyes and get started...and the rest would happen without any efforts!