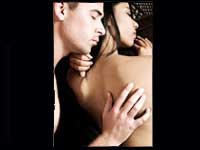 Touch is the best means of communicating the feelings, especially to the partner. When making love, touch is the only method to start the exploration of the partner's body. So touch is known by another name, "spiritual sex".
The sexologists say that the partners should engage in this intimate deed at least for more than thirty minutes, before starting the penetration to enjoy a prolonging orgasm. Touch is an art and never be done as a 'rush off' activity before the intercourse.
Sexual touch is supposed to make the arousal in the partner. The best place to make arousal in the partner is the body parts like nipples, genitals, inner thighs, buttocks, etc. When the partner use hands for touching, it is called 'groping' or 'fondling'. Giving kisses with mouth is another kind of touch, which arouse some.
It is good to start with the smallest touch possible, while starting the lovemaking. This can be gone for a while, where you should play with your partners body in the most subtle method. This will definitely create some positive facial expressions or noises, from the side of the partner.
Touch can be of any type including a scratch, tap, rub, bite, kiss or a tickle. Quick changes must be avoided, that slowly you can make the transitions. Experimenting with different kinds and intensities of touch provides unforgettable culminations in the partners. But do not forget that touch is only to do with exploration, not with orgasm.