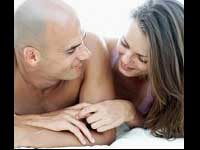 Are you one of those, adventurous folks, who want to explore and enjoy love making? If you are the one, then I would strongly recommend you to be a scout to explore the easy access to G-spot and pleasure making.
You would have the thought that G- spots are a particular set of areas but the fact behind, erogenous zones are that they are not always the same. So to find out your partner's stimulant spots, you have to communicate with him or her, while you make love to each other.
Here are some of the favourite love making positions that couples enjoy the most and they easily get the right G- spot access.
Woman On Top : In this position as the lady is riding the horse, she takes the control. This position gives the man easy accesses to a woman's most erogenous zone. As a lady loves to dominate, the mental happiness which she attains in this position also helps the easy access to her G - Spot and gives her the best stimulation.
Doggie Position : Although this position is painful for some women. Experts say that this is that one position, which keeps a woman excited, as it provides easy and quick access to her G - Spot.
Your Highness : In this position, your man could be either kneeling or standing and you would be wrapping your leg around his shoulders. This position is also one of the most favourite of those who want to hit their lady's erogenous zone. Also this position gives the couple eye to eye contact.