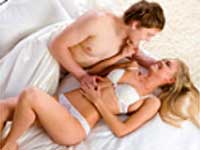 Viewers of 'This Morning" were in for a saucy treat as they were shown how to spice up their romantic relationships with the demonstration of different sexual positions.
On the show, the couples clambered on to a bed to give the viewers several tips on how to match their sexual positions, according to the mood or needs. The show was presented by Holly Willoughby and Philip Schofield. The couples involved in the raunchy demo were wearing pyjamas, as they showed off their moves.
Tracey Cox, a relationship expert, also explained the positions for the couples of different heights and for when they are feeling lethargic. This was a part of the program, 'sex up your life week'.
The program aimed to show off a range of ways to revive flagging sex lives.
''For 21 years sex has been a hot topic for discussion on This Morning and the subject really connects with our viewers who really involve themselves,"says the Executive producer Karl Newton. ''We decided after the success of our love week earlier this year to turn up the heat and launch a special sex week, covering a whole spectrum of issues, from infidelity to poor performance and from oversexed men to sexual diseases, no area is off limit," adds Newton