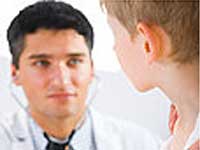 Despite the national guidelines meant for improving the sexual health services for teenagers, most sexually active boys still get too little counseling about the Sexually Transmitted Diseases (STD) including Aids (HIV), says a new study.
The study was led by the researchers at Johns Hopkins Childrens Centre. It found that the HIV-STD counseling are properly received by only 26 percent of teens, among the boys who are actively involved with the high-risk sex. They say that they have received STD counseling from the doctors. High risk sex includes having sex with the prostitutes or with a person who is already an HIV patient, or having sex while drunk.
The study also found that there is no reduction in the teenage males, who get affected with sexually transmitted diseases, though the government had issued guidelines urging physicians to make sexual health counseling and related services part of the regular exam for teenagers in the early 1990's.
The study signals the need for the better Sexually Transmitted Infections (STI) counseling of the young male patients, in order to minimize risky behaviours.
The experts say that the first step to the better counseling is the use of evidence-based, uniform guidelines. They say that it is critical to understand what prevents the providers from counseling and devise the ways to eliminate such barriers.
They also suggest that the paediatricians on the front lines should follow the ACT method- ask, counsel and test. Asking the patient whether he is sexually active, counsel him about the risk and test accordingly.
The findings were published in the Journal of Adolescent Health.