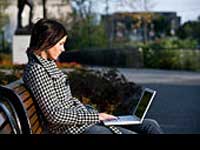 Sex, the so called taboo has lighted the fire of curiosity in both men and women, despite being a child, youngster or oldie. With the advent of technology and internet, people now a days are satisfied with virtual life over real one.
Despite the gender - factor both men and women use the virtual or online platform for anything and everything, these days. The main attraction of these folks is that online platform has become a good source of finding dates, getting hooked in a relationship, to build contacts etc. but most prominently, both men and women take this platform to satisfy their lust or body.
The term 'Cyber - Sex' must have echoed in your ears by now. Yes, this consensual virtual sex has become the most opted way to have an orgasm or arousal, but without realizing the after maths of this consensual virtual sex, people slip easily into the grab of its addiction. The advent of internet has fetched a bunch of 'Sex - Addicts' in our society.
The after maths of 'Cyber - Sex' ranges from, rise in divorce cases to lose of job. There are many reasons for men and women to fall into virtual sex.
1.Less satisfaction in the real time sexual life
2.Mis - matches in sexual interests with the partner
3.Being shy to express your wild sexual interests to your partner
4.Fear of being rejected
Experts say that there are both men and women who have not only lost their personal life, they also have lost their job or official life, because of this sex addiction. When polled, 27 percent of sex addicts agreed that they lost career opportunities because of their sex addiction.
Michelle Zelli, London-based Life Coach for the Mind, Body & Spirit and certified hypnotherapist, said that it's a nice feeling you get after a nice orgasm or arousal. The reason behind such a feeling during orgasm is that during orgasm or arousal body generates powerful chemicals that makes the person feel good. Without their own knowledge these people get addicted to these chemicals' control.
Zelli added that if someone is facing an addiction which is not getting under his or her control, then it's advised to take medical help.