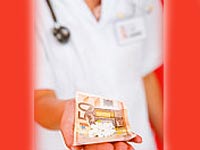 A pills in effect to Viagra, for females will soon be available, says the scientists.
The team working for the pharmaceutical firm behind Viagra, has uncovered a substance which could pave the way for a drug similar to that.
The novel prototype drug will help the researchers to discover more about the mechanisms underlying the female sexual arousal. Electrically stimulating the pelvic nerves increases blood flow to genitalia. This effect can be enhanced with the help of a prototype drug, called UK-414,495. The drug acts by blocking the breakdown of the internal enzyme, which plays a key role in increasing blood flow during sexual arousal.
When women become aroused, blood flow increases to the vagina, labia and clitoris. This causes the organs to swell and the vagina to relax, as well as increasing vaginal lubrication and the sensitivity of the genitalia. The new drug will help the female for a longer orgasm, too.
Female sexual arousal disorder (FSAD) affects up to 40percent of women irrespective of age. It can be due to the irresponse to the stimulation, which will make them distressed later. The researchers informs that they are also trying to find the methods to overcome FSAD.